About Us

Founded in 2009 by members of Konzerthaus­orchester Berlin, Konzerthaus Kammer­orchester Berlin is a chamber orchestra that plays its own concert series at Konzerthaus Berlin. The ensemble involves its members in the program planning and choosing of soloists for upcoming concerts. It has worked together with renowned soloists like Misha Maisky, Daniel Hope, and Sebastian Knauer.
The orchestra's first CD "Recomposed by Max Richter: Vivaldi – The Four Seasons" stars violinist Daniel Hope and was published by Deutsche Grammophon / Universal. It achieved a high ranking in the classical charts. Further recordings that were produced by the Berlin classical label "b-sharp" are available for purchase at Konzerthaus Berlin.
∼ ∼ ∼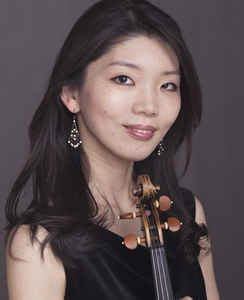 Sayako Kusaka is the chamber orchestra's artistic director. She has been first concertmaster at Konzerthaus­orchester Berlin since March 2008 and, aditionally, concertmaster at Yomiuri Nippon Symphony Orchestra in Japan since 2012.
She began her musical training in Tokyo. Her teachers were Takashi Shimizu at the Tokyo National University of Fine Arts in Japan, Eduard Schmieder at the Southern Methodist University in USA, and Rainer Kussmaul at the Freiburg Musikhochschule in Germany.
Sayako Kusaka has received many prizes. In 2005 she was nominated "Best Musician Of The Year" by the Japan Music Critics Association. In 2009 she received the prestigious "Idemitsu Music Award". She won prizes at the Pablo de Sarasate Violin Competition (1995, Forth Prize), Jean Sibelius Violin Competition in Finnland (2000, Third Prize), and Japan Music Competition (2000, First Prize). At the Premio Paganini Violin Competition in Italy (2001) she was awarded a silver medal and the Best Interpretation of Caprice Award. At the Rudolfo Lipizer Violin Competition in Italy (2002) she received the First Prize and also won seven special prizes – the maximum for which she was eligible – including awards for best performances of Bach, Mozart, contemporary compositions and more.
Sayako Kusaka soloed internationally with Konzerthausorchester Berlin, Ostrobothnian Chamber Orchestra, Kammerorchester Berlin, Kirov Staatsorchester, Bacau Philharmonic, Ecuador Baroque Chamber Orchestra, Tokyo Philharmonic, Tokyo Symphony, Osaka Philharmonic, Japan Philharmonic, Tokyo City Philharmonic, Kyoto Symphony, New Japan Symphony, Kansai Philharmonic, Kyoto Philharmonic, Sendai Symphony, Meadows Symphony, and Kremerata Baltica at the Lockenhaus-Fest 2010.
Sayako Kusaka has been a member of the Konzerthaus String Quartet Berlin since 2013 and the Streichtrio Berlin since 2016. She plays a violin by Joannes Franciscus Pressenda (Torino) from 1822.